December, 2012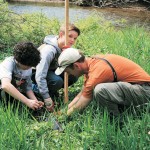 As your open space advocate, the West Pikeland Land Trust (WPLT) has made significant progress toward protecting quality open spaces and realizing the vision of a public trail network that provides our residents the opportunity to enjoy the streams, woodlands, and other unique features of our special township.
Because of your generous support last year, the WPLT was awarded a matching grant from the Marjorie and Arthur Miller Fund to build the Pickering Creek Trail. Working in collaboration with the Natural Lands Trust and Miss Betty's Day Camp, WPLT constructed this publicly accessible trail in the spring with over 200 new trees planted by students from the Montgomery School. It now serves as the link between the existing Bridge to Bridge Trail, the Binky Lee Preserve, and Pickering Grove Park. WPLT hosted an official ribbon cutting ceremony for the trail in October, joined by the Millers, the Chester County Community Foundation, township officials, residents, and volunteers. The Millers were truly impressed by the quality of the trail, the number of trees planted and the partnerships formed to make the project a success. In particular, they lauded the educational aspects of this project including the informational signage and the summer camp environmental program … all focused on the value of stream and wetland protection. Building community partnerships and embracing educational opportunities for our kids will continue to be a WPLT goal as we undertake future trail projects.
Our next anticipated trail project is described in the attached "Success Story". The new Woodland Trail, traversing land that has been recently conserved through the township's Open Space Fund, will provide the 1⁄2 mile link between the 75 acre Pine Creek Park on Yellow Springs Road and the 112 acre Binky Lee Preserve on Pikeland Road. We hope to get started in spring 2013.
However, another success depends on you! Our goal is to raise $4,000 to create the Woodland Trail. This year, without grant funding or funding from the township for trail improvements, the Board of Directors of the West Pikeland Land Trust has made a commitment to match dollar for dollar all contributions made through this appeal, up to a maximum of $2,000. If this challenge is successful and we can again call on our partners who made gracious in-kind contributions to complete the Pickering Creek Trail, then we can successfully complete the Woodland Trail and open it to the public next fall.
So, with hope and anticipation of adding another critical link to West Pikeland's open space trail system, please consider making a gift to the West Pikeland Land Trust this year. Help us reach this goal and enhance our other fundraising efforts. Your generosity demonstrates your support of our open space preservation efforts and allows us to continue to secure open space as a community asset for community use and enjoyment.
Sincerely,
Curt Grogan
President